P3HH's Bamboo Charcoal For Cancer Treatment Indonesia | 17/10/2019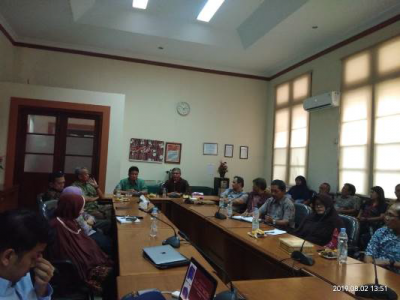 Bamboo charcoal that has been processed into porous carbon can be used for cancer treatment. A public lecture that took a theme of "Teknologi Elektro Kapasitansi Untuk Terapi Kanker "(Capacitance Electro Technology for Cancer Therapy) was held at Cendana Room, Research and Development Center for Forest Product (P3HH) Bogor with Dr. Warsito P Teruno of C-Tech Edwar Technology as keynote speaker. The event were attended by researchers of BLI (from 3 R&D Centers, Forest Seed Technology Research Institute/BPTPTH Ciheleut), also attending were the participants of several working units under Ministry of Environment & Forestry, and researcher from LIPI (Indonesia Research Institute).
Director of P3HH, Dr. Ir Dwi Sudharto, M.Si stated "We are fortunate to be able to work together with Dr Warsito and his team. Liquid smoke : Take Liq produced by P3HH, has been used to spray wounds on cancer patient and the wound was dried out". Integrated charcoal technology is a technology that integrates process and its application, using this technology we can produced charcoal product, liquid smoke and bioactive composted charcoal (arkoba).
Agreeing to the Director's statement Gusmailina, a senior researcher in integrated charcoal admit that she had self-proved the benefit of smoke liquid for wound treatment and has been consuming charcoal capsule since for her cancer treatment.
In 2019, P3HH together with Biomaterial Research Center, AekNauli LHK Research agency and C-Tech Edwar Technologi are conducting cooperation in integrated charcoal Sci-tech application located at KHDTK Aek Nauli. The cooperation will built a special tourism spot for cancer therapy, that include activities such as drinking the charcoal, using jacket, music activity, and also there will be cancer clinic.
In the opening of the discussion, P3HH researcher, Dr Ratih Damayanti was explaining the 3 approach of treatment, biology, chemical and physics (MRI, USG, CT-Scan). Biology, for example using Kersen skin for breast cancer. In the event, Prof Warsito presenting the physical aspects.
In his presentation, Prof Warsito stating that cancer cells can be terminated using electric current, it is a fast process except that for the absorption of the dead cells and the recovery will take some times. He was suggesting the need to support the process, and idea finally came up after a discussion with Prof Gustan to used smoke liquid and nanocarbon made from bamboo.
A 7 years mistery is finally sees the bright light by using smoke liquid and nanocarbon made from bamboo, he stated.
Activated carbon material is important to bind and absorp the decaying cancer cells. There are 3 process in the treatment which are : terminating the cancer cells, disposing and absorbing. Activated carbon will help the absorption particularly in Group D. Healthy cell regeneration requires high protein and antioxidant. Smoke liquid will help this process. Besides the capacitance electrical device can be used for other requirement, mainly to observe plant cells activities and other observation. Prof Gustan made a remarks addressing that the cooperation between researcher is made possible by knowledge sharing. The technology is expected to be further enhanced to accelerates agarwood inoculant spreads.