DOST-FPRDI trains woodworking machine operators in Zamboanga Sibugay Philippine | 09/08/2019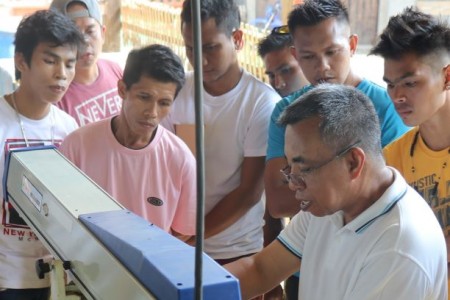 The DOST-Forest Products Research and Development Institute (DOST-FPRDI) recently trained 20 workers of Tambanan Agrarian Reform Beneficiaries Multi-Purpose Cooperative (TARBEMCO) on basic woodworking machine operation and maintenance. TARBEMCO is the
DOST-FPRDI's local partner on the project "Processing and Utilization of Senile and Unproductive Rubberwood (Hevea brasiliensis) Trees for the Production of High-Value Furniture, Mouldings and Joineries".
The training was held last March 25-28, 2019 at the newly established Rubberwood Processing Plant in Zamboanga Sibugay. It included lectures on safety practices in the workplace and proper maintenance of the power tools and machines and demonstration and operations of basic woodworking machines. Project leader Engr. Victor G. Revilleza of FPRDI's Technology Innovation Division served as the trainor.
The participants will later on be hired either as machine operators or safety officers of the processing plant. The trainees will also be assessed by the Technical Education and Skills Development Authority (TESDA) and Department of Labor and Employment (DOLE) for National Certificate II accreditation.
The DOST-GIA-funded project aims to establish a complete line of rubberwood processing facilities in Zamboanga Sibugay. The processing plant was launched in November 2018, while the construction of the Pressure Method Wood Treatment Plant and a 5,000-bd ft capacity furnace-type lumber dryer is underway.