INCREASING RECOGNITION FOR XYLARIUM BOGORIENSE AND AUTOMATIC WOOD IDENTIFICATION TOOLS Indonesia | 13/06/2019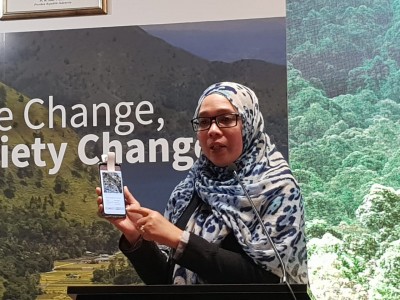 Xylarium Bogoriense (Forest Product Research And Development Center, Research Development And Innovation Agency, The Ministry Of Environment And Forestry) currently holds the largest number of authentic specimens in the world (193,858 authentic specimens, 110 family, 785 genus and 3,667 species). The xylarium's collection gains international recognition by the International Assosiation of Wood Anatomists (IAWA). It is evident that Xylarium Bogoriense's database provide great benefit as a source of scientific information on wood species, mapping of timber species, and as the main reference in timber identification for law enforcement, customs, practitioners and academics.
Xylarium Bogoriense holds many other strategic benefits, including supporting carbon stock mitigation and storage efforts. Dr Krisdianto at the Indonesian Pavilion Talkshow as a series of COP 24, on December 3, 2018 in Katowice, Poland stated "Xylarium Bogoriense has strategic benefits in calculating carbon content in wood and wood products, it is also useful to develop Indonesia's emission factors and predicting patterns of climate change".
At the same occasion a device named AIKO (Alat Identifikasi Kayu Otomatis/automatic timber identification device) was also introduced, the device was developed using the Xylarium's database. Dr. Ratih Damayanti explained that AIKO performance is based on computer vision, a science innovation that will cut time of timber identification works from 1-2 weeks manually into seconds. "AIKO will improve the performance of business in timber industry, will contribute to domestic revenue, and primarily strengthened the enforcement of environmental law and forestry, especially in accelerating process to resolve conflicts over timber species," said Ratih.
Xylarium Bogoriense and AIKO Talkshow gained considerable attention from visitor following session presented by Dr. Agus Justianto, the director general of Research Development And Innovation Agency, in his closing statement he stated that there are close interconnection between timber diversities and carbon storage, both issues needs to be elaborated to gain knowledge in oder to mitigate climate change. Also attending the occasion at Katowice, Poland, Dr. Dwi Sudharto, the director of Forest Product Research And Development Center stating his hope for Xylarium Bogoriense to be able to continuously developed and enriched with more data and information to capitalize the benefit, and also for AIKO device to be widely applied.