DOST-FPRDI ups the game with a consultative dialogue Philippine | 06/02/2019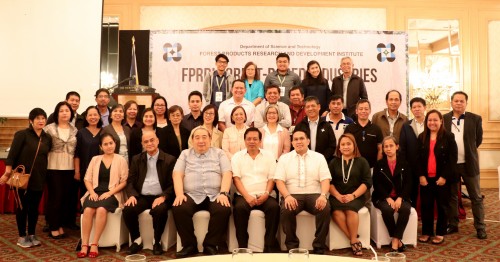 To make its services and technologies more responsive to the needs of industry partners, the DOST- Forest Products Research and Development Institute (DOST-FPRDI) organized a "Consultative Dialogue with the Forest-based Industries" last 30 October 2018.
"This event intends to address the current challenges faced by the forest-based industry. It hopes to provide S&T-based solutions to technical problems identified by our clients," said DOST-FPRDI Director Romulo T. Aggangan.
The activity was attended by representatives from the Philippine Wood Producers Association (PWPA), Chamber of Furniture Industries of the Philippines (CFIP), Pallets Business Association of the Philippines (PBAP) and the Community Crafts Association of the Philippines (CCAP).Most of the issues raised were on alternative sources of raw materials, and availability of "green" or environmentally safe and cost-efficient technologies.
"Are there technologies that we can use to lower production cost, and scale up and improve our product design?" asked Ms. Czarina S. Gragera, CCAP Advocacy and Partnerships Manager. She added the need for an accessible database of raw materials for faster and wider information sharing.
PBAP's Ms. Xenia A. Gabayan asked for cost-effective technologies for pallet production and wood preservation, and recommended the creation of a pallet testing laboratory.
On the other hand, Mr. Salvio L. Valenzuela of CFIP suggested the establishment of an innovation center and raw materials hub, while PWPA's Mr. Ramon Y. Uy was concerned with technologies that would lower carbon emission and efficiently process wood into veneers, among others.
According to Aggangan, the results of the dialogue will be vital in the crafting of the Institute's Plans and Programs for 2020-2022