DOST-FPRDI reaches out to CAR bamboo stakeholders Philippine | 01/06/2018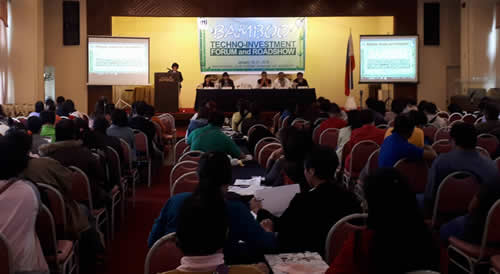 Investment prospects in the bamboo industry were presented to Cordillera-based entrepreneurs and other stakeholders in this year's Bamboo Techno-Investment Forum and Roadshow held last 30-31 January 2018 in Baguio City.
Among the discussants were Dr. Rico J. Cabangon of the DOST- Forest Products Research and Development Institute (DOST-FPRDI) who talked about the Institute's bamboo processing technologies that the participants can take advantage of. He also presented a wide array of products made from engineered bamboo.
"Engineered bamboo is produced by binding together fibers, particles, strips or slats of bamboo using an adhesive. The material can be turned into furniture, handicrafts, panels and other novelty items and is often stronger and less prone to warping than equivalent solid woods," explained Cabangon.
Recently, the DOST-FPRDI developed a hot press machine (photo above) that can press 15-mm.-thick bamboo boards in only 8-10 minutes. This speeds up the production time from the current cold pressing time of 6-8 hours.
Organized by the Department of Trade and Industry- CAR, the forum was participated in by 155 guests that include bamboo furniture and handicraft makers, bamboo and coffee farmers, and representatives from the academe and local government offices.