DOST-FPRDI wood ID team supports restoration of old churches Philippine | 06/11/2017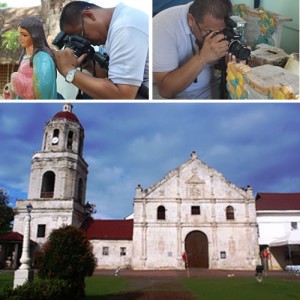 DOST-FPRDI researcher Rodrigo E. Cortez, Jr. takes macro-photos of a wooden religious image and a museum piece from the St. Michael de Archangel Church in Argao, Cebu Province. Cortez and four other DOST-FPRDI researchers formed a team which recently identified the tree species used in wooden furniture and religious artifacts found in several old churches in the Visayas.
The project is part of the efforts of the National Historical Commission of the Philippines (NHCP) to restore 15 Bohol and Cebu heritage churches damaged by the 7.2 magnitude earthquake on 15 October 2013.
According to NHCP Director Ludovico Badoy, "Following international conservation and restoration standards, the Commission gathers information on the type of materials that make up these wooden structures, and uses such to come up with feasible restoration plans."
Dr. Ramiro P. Escobin reports, "Almost 1,500 pieces of wooden structures and museum pieces found in the old churches were identified by the DOST-FPRDI team with relatively high accuracy using the traditional, practical and standard methods in wood structure identification."