DOST-FPRDI trains Rizal Wind Farm communities Philippine | 07/03/2017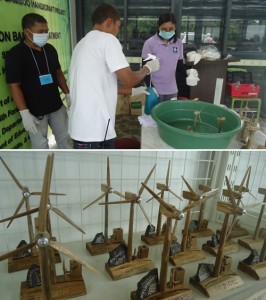 Twenty-eight residents of Brgy. Halayhayin, Pililla, Rizal were trained on bamboo treatment and preservation by a DOST-FPRDI expert last September 29, 2016.
The training was sponsored by the Alternergy Wind One Corporation (AWOC), builder of the Rizal Wind Farm. Located on top of a hill, the farm is made up of 27 giant windmills that generate a total of 150 gigawatt hours of energy.
As part of its social responsibility to its host communities, AWOC sponsored the livelihood training for residents of Sitios Mahabang Sapa, Kawayan and Bugarin. DOST-FPRDI researcher Sheryl Micosa gave the lecture-demonstration.
Earlier this year, the same group of participants attended the course on the basics of bamboo handicraft production, also conducted by the Institute. Most of the attendees were either pineapple farmers or handicraft-makers.
With Rizal's abundant bamboo resources as raw materials for handicrafts and the influx of tourists visiting the wind farm, the DOST-FPRDI training courses have opened more livelihood options for communities living within the area. According to the municipal tourism office, as many as 3,000 tourists visit the windmills during weekends. A Visitors' Center has been built by AWOC to receive the guests.